Retractable Hose System
for central vacuum
Retraflex is a central vacuum hose that retracts into the walls with the simple suction power of your central unit.

A Quick And Simple Clean
The perfect solution for simple and efficient cleaning



Simplicity
No need of storage space for your hose. It automatically stores itself inside the piping system, right behind the inlet, with just the suction power of your central vacuum.
Efficiency
A hose behind every inlet. Your central vacuum is always within your reach. You can therefore take advantage of its power to clean occasional dry messes in an instant!
Speed
No hose to carry from inlet to inlet. The Retraflex is more convenient for quick clean ups than a traditional hose. Pull out just the length of hose you need and make it disappear behind the walls within seconds after your cleaning!
How does it work?
To start…
Simply pull out the length of hose you need at the moment.
Pull the black handle to lock the hose and start the system automatically.
To stop the vacuum, simply pull on the red switch to turn off the unit. Simply push the switch to restart.

When finished…
Push the handle tore lease the hose.
Disconnect the attachments and put your hand over the opening to allow the hose to retract.
Close the door to stop the system.
Simplified installation
Screw the inlet to the studs (America) or into the brick wall (Europe) and connect the piping system and low voltage wires.
Once the wall is finished and the paint is dry, you just need to remove the cover plate (yellow) and put the door in its place. Then, all that's left to do is adjusting the screws!
Warning! The installation of the central vacuum and of the piping system must be done by a professional, in compliance with the manufacturer's instructions provided with the parts.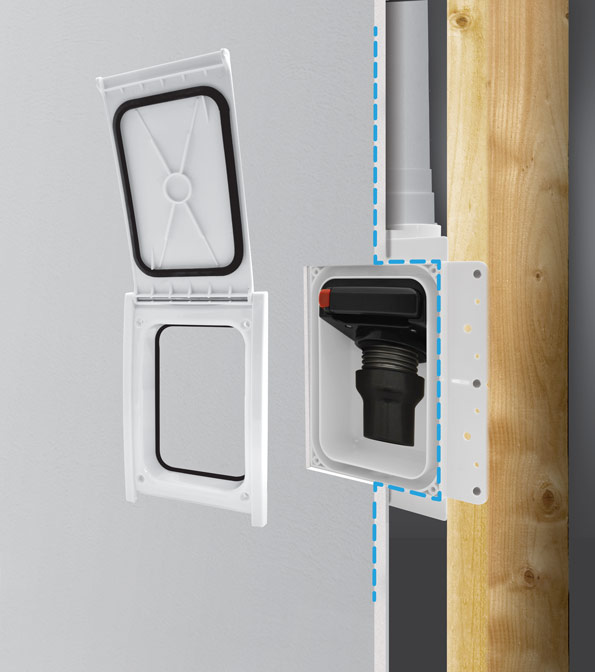 Contact
Have a question or comment? Write us.